The BYOD Era
According to Gartner, an information technology research and advisory company, "The rise of bring your own device (BYOD) programs is the single most radical shift in the economics of client computing for business since PCs invaded the workplace."
IT departments have controlled computer equipment purchasing for some time, but this is changing. With the rapid consumerization of IT, employees are now buying more of their own devices for use at home and at work. The result is the BYOD (also referred to as BYOL and BYOC) phenomenon, which is bringing considerable policy and procedural changes to procurement, manageability, security, and compatibility.
BYOD can generate substantial advantages—like employee satisfaction, productivity gains, increased flexibility, and reduced costs—yet it also raises a number of new challenges. Security, device compatibility, support, futureproofing and interoperability are now key considerations in policy-management and infrastructure-purchasing decisions.
New Digital Tools and Requirements
In addition to new portable devices, multiple workspace monitors are gaining in popularity. Research has shown that an extra monitor can significantly boost productivity by up to 40% and can reduce errors by up to 33% (when documents and data can be viewed side-by-side in an expanded digital workspace), so it is no surprise that both companies and workers find added value in additional screens.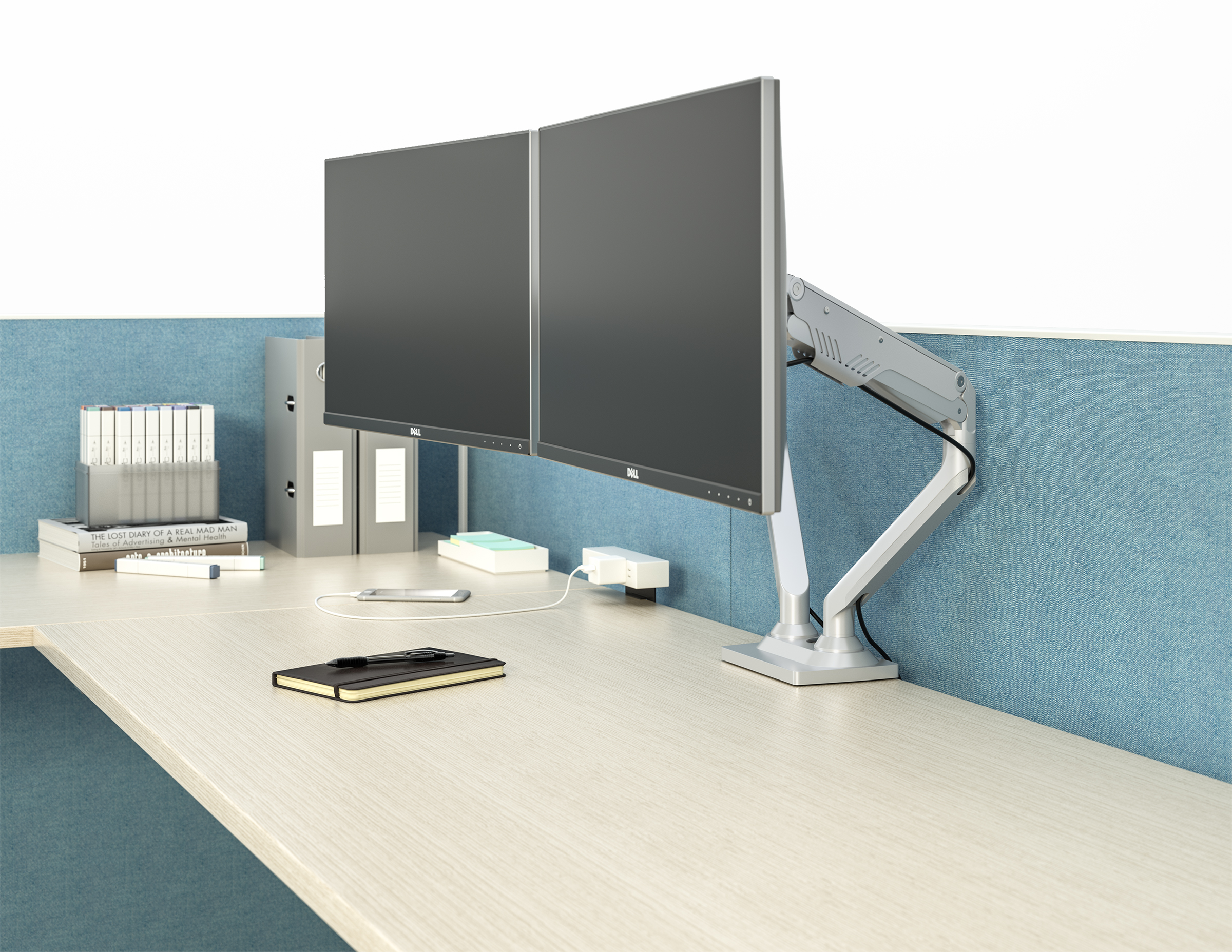 The Hot-Desking Trend
An increasingly mobile workforce and rising real estate costs are evidence enough that there needs to be a major shift in how workspaces are designed— but now individual workspaces require features that can be easily used and quickly adjusted to suit the needs of multiple users.
Hot-desking, or desk sharing, first appeared in the 1980s. Back then, it was limited by technology and flexibility. Today, with the advent of work-at-home policies, companies are creating entire hot-desking offices. There has also been a surge in co-working spaces, where desks can be rented for specific amounts of time by anyone.
Hot-desking can be effective, especially in reducing overhead costs, but even hot-desk offices require many of the same amenities that traditional offices provide to their workers:
Enough connectivity for required devices
Usability consistent with permanent offices
Security to protect IP and confidential data
Comfort throughout hours of use
Leveraging Ergonomics to Meet Today's Challenges
All of the changes to the corporate landscape over the last decade point to one universal truth: the office of the future is here. The problem is that most workspaces are stuck in the past. It is important that individual workspace design evolves to support today's technology needs while also providing a healthy and comfortable user experience. Ergonomic workspaces are not only healthier and ready to offer support for required technological devices, but they also promote an engaged and productive work environment.
Excerpts taken from the Whitepaper article by Humanscale as seen in FMLink